A massive thanks from all of us on the campaign team to you the community for rallying around and helping to get this new Educate Together Secondary School for our area in Dublin North East. We honestly couldn't have done it without you all.
The campaign team are now signing off from this website as all future updates on the school such as enrolment and teaching posts are in the hands of the new school principal, Ashling Kenevey and her team. All of this can be found on their new school website https://dublinnortheastetss.ie/
Thank you
_______________________________________________________________
7th FEBRUARY 2019
News release:
Educate Together is delighted to announce Ashling Kenevey as newly-appointed Principal of Dublin North East Educate Together Secondary School, opening in September 2019.
Ashling started her career in the IT industry before following her passion into the teaching profession in 2012. She taught Maths, Business and IT in Ringsend College and Coláiste Dhulaigh. She established an after-school coding club and managed the senior boys' and junior girls' soccer teams. Ashling is also on the executive committee of her local GAA club and manages one of their teams.
She holds a Postgraduate Diploma in Leadership and Management from NUI Maynooth, a Postgraduate Diploma in Education from Hibernia College, a Higher Diploma in Computer Science and a B.A. Hons Degree in Maths and Economics from UCD. Ashling is also a Leaving Certificate Maths Examiner with the SEC.
Says Ashling:
"I believe that what happens in the classroom is the most important aspect of school life and as Principal I will support teachers to ensure all students are working to the best of their ability and reaching their true potential both academically and personally. I have always believed in a student-centred approach to teaching and learning. By showing an interest in students, ensuring that they know you care, developing their self-esteem and praising their progress they enjoy learning and become hungry for more. I believe that by involving students, parents and the wider community in the running of the school, we can create the best environment for our students to excel."
Says Liz Martin, school manager, Educate Together:
"Ashling's commitment to equality-based education is beyond doubt and she will be a fantastic Principal to lead Dublin's newest Educate Together secondary school. On behalf of the school community and the Educate Together national office, I would like to welcome Ashling to the Educate Together team."
Dublin North East ETSS will open in Autumn 2019 to First Years. Enrolment is ongoing and interested families can find out more here. The Department of Education and Skills is currently sourcing accommodation for the school.
                              ———————————————————————
20th December 2018
Please see below the latest information we have regarding the opening of the new Dublin North East Educate Together Secondary School.
The process to appoint a new Principal Teacher for the school has begun. A selection panel has been established by Educate Together and we are confident that the process will be completed in January 2019.
We have had several meetings with the Department of Education and Skills (DES) regarding the temporary and permanent accommodation arrangements for the school. At this time we are unable to confirm the location of the temporary accommodation for September 2019. We have been assured that DES are currently working on a definite plan and that the school will open in 2019 in suitable temporary accommodation. We will be meeting with the DES again in mid January 2019 and we will update you in due course.
The enrolment list for the school is now open. Please note we are only accepting applications in respect of First Year entry in 2019 at this time. Places will be offered, as per the school Enrolment Policy, in the week beginning Monday February 11th 2019.
Further information regarding the school's Enrolment Policy, Catchment Area and a link to the Online Application Form can be found on the Educate Together Website https://bit.ly/2S7ysbH.
We are very aware that there are a lot of outstanding issues and concerns regarding the opening of the school. We are very confident that these issues will be clarified early in the new year. It is our intention to hold a Public Information Meeting in January 2019. This meeting is currently being organised and we will send details when arrangements are finalised. This meeting will be of particular interest to those seeking a school place in September 2019.
Many thanks for your continued support and patience. On behalf of Educate Together and the new school team I would like to extend seasons greetings to you and your family and I look forward to meeting with you in January.
Gerry McKevitt
School Manager
3rd December 2018

Click

 here 

to enrol for First Year September 2019

____________________________________________________
28th November 2018
Enrolment for first year students starting  secondary school in September 2019 will open on Monday December 3rd. Click here 
for further information and links.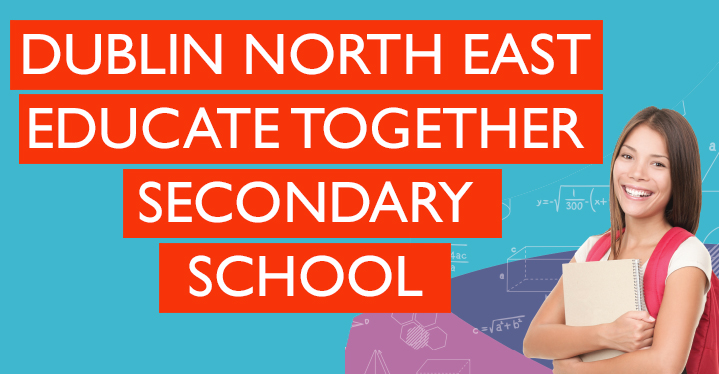 ____________________________________________________
9th November 2018

We are now seeking the Principal for the Dublin North East Educate Together secondary school – Opening 2019
Applications close November 30th 2018
______________________________________________________
8th November 2018:
Until the exact location of the new school has been determined by the Department of Education and Skills we will be known as:
Dublin North East Educate Together Secondary School. 
All social media page updates and announcements from Educate Together will now use this working title as our new school name.
______________________________________________________
1st November 2018:
AN EDUCATE TOGETHER SECOND LEVEL SCHOOL WILL OPEN IN NORTH DUBLIN IN SEPTEMBER 2019
Hi everyone!
We're still catching our breaths after yesterday's great news that we'll be opening a secondary school to serve North Dublin next year!
Our next steps are putting together the school admissions policy and beginning principal recruitment.
When we have the admissions policy ready we will begin enrolment for First Years for 2019.
If you want to enrol your child, please make sure that you're on our mailing list. You can sign up here: http://eepurl.com/drL-MX
We will email everybody and update here when enrolment begins. We will also let you know if we hear anything from the Department of Education and Skills regarding accommodation.
Thanks for your patience!
Gerry and the Educate Together New Schools Team
__________________________________________________________________________________
31st  October 2018:   
    WE DID IT    
See press release from Minister for Education and Skills Joe McHugh T.D. who today announced that our campaign was successful and Educate Together have been awarded patrons of the new 1000 pupil Second Level school for the Dublin 13 catchment area. 
CLICK HERE FOR FULL REPORT AND DETAILS 
______________________________________________________________________________
31st July 2018
VOTING HAS NOW CLOSED
Thanks for your support and votes!
Check back soon for the result
The Department of Education and Skills (DES) has opened an Online Patronage Process System (OPPS) to ascertain parental preference for the patron of a new school due to open in 2019. The Dublin 13 catchment area as defined by the Department will include Baldoyle, Bayside, Belmayne, Clongriffin, Donaghmede, Howth and Sutton.
THIS IS A UNIQUE OPPORTUNITY FOR YOU TO SECURE AN EDUCATE TOGETHER SECONDARY SCHOOL FOR DUBLIN 13
CLICK ON THE FOLLOWING LINK TO APPLY
TUESDAY 31 JULY IS THE
Am I eligible to express a preference for the patronage of a new post-primary school to open in 2019?
Is your child due to start post-primary education in the 5 year period 2019 to 2023? (at school year end in 1st to 5th class – going in to 2nd – 6th)
Is your child resident in the following school planning area of Dublin 13: Belmayne, Clongriffin, Donaghmede, Bayside, Baldoyle, Sutton or Howth. 
See the map for exact location : Donaghmede – Howth – D13 (Belmayne/Clongriffin area)

'We have established that Educate Together has strong support in each of these areas and we're looking forward to working with local campaigners to bring the Educate Together ethical education ethos to North Dublin, Galway, Louth/Meath and Wicklow.'
Paul Rowe, CEO of Educate Together.
Please share our promotional video on your social media pages